Cyber ​​crime is growing rapidly, and with the help of Kovid-19, hackers are looking for a new way to do it. Meanwhile, Airtel has warned its customers. The company has said by messaging that Airtel never asks for any email ID which is not really yours, SMS it to 121 and update it. So if you ever get a call or SMS in which such a thing is said, then be careful. This is because such calls or SMS are fake, and their eyes are on your bank account.
The Airtel team has sent a message to the customers to be alert of such fraud and has told that such mistake can also cause loss of goods to the customers. Actually in most cases it happens that by hacker updating such email ID, your data and banking details are tampered with, which puts a big risk on your money.
(Also read- India's second digital attack on China! Government now banned 47 apps)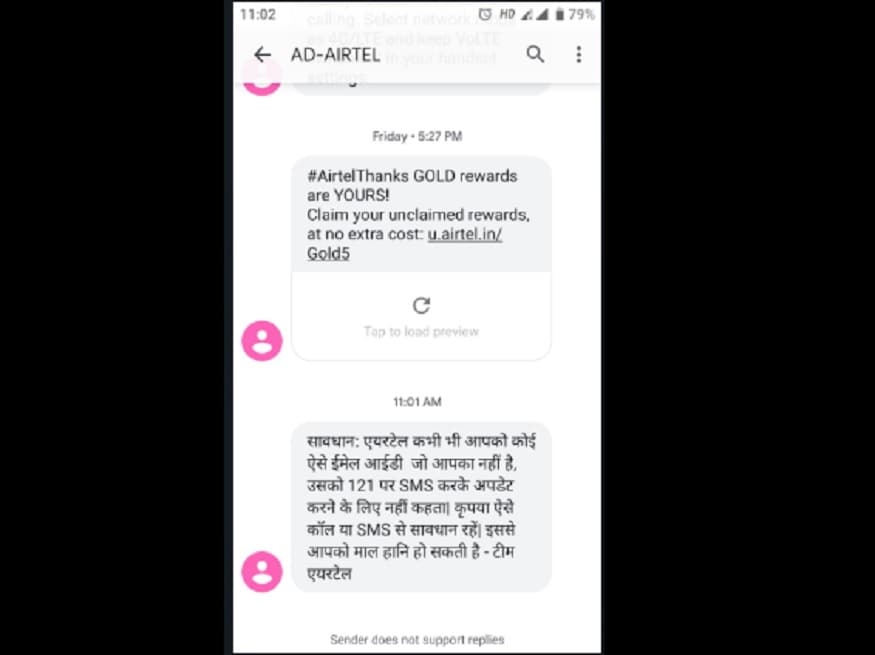 Airtel has alerted the customers through the message. (Photo: News18 hindi)
Increased vigilance over cyber attack
Following the recent warning issued by the central government, telecom companies have increased the vigilance of networks and systems regarding cyber attack. In fact, the central government had warned that in the coming days, cyber attackers may target common people and businessmen on a large scale under the pretext of Kovid-19. Airtel has issued a security advisory to its customers saying that the company is constantly monitoring.
(Also read- 47 Ban Apps were running in India through Cloning so far, know how to do this work)
Airtel said that most of the employees are working from home due to the Kovid-19 epidemic. Due to this, the risk of cyber attack and especially phishing has increased. Airtel has asked its customers to adopt all necessary security measures to avoid a possible attack. The company said that these cyber attacks not only risk disrupting important business activities, but can also affect the reputation of your brand.
.