News Desk, Tech for FTCP, Bhopal
Updated Thu, 20 Aug 2020 11:51 AM IST
Advertisement of Madhya Pradesh Congress
– Photo: ANI
Thursday is the 75th birth anniversary of former Prime Minister Rajiv Gandhi. The Madhya Pradesh Congress has remembered Ram on this occasion. The Congress has advertised in local newspapers, claiming that the foundation of the Ram Rajya was laid during Rajiv Gandhi's tenure.
The advertisement stated that in 1985, the efforts of Rajiv Gandhi began broadcasting the Ramayana on Doordarshan and in 1986, the then Chief Minister of Uttar Pradesh, Veer Bahadur Singh, had to open the locks of the Ram Janmabhoomi site.

In its advertisement, the Congress has given credit to Congress leader and former Prime Minister Rajiv Gandhi for laying the foundation for construction of Ram temple in Ayodhya as well as modern India of the 21st century. The Congress has claimed that the foundation of Ram Rajya was first laid during Rajiv Gandhi's tenure. Rajiv Gandhi had respected the faith and religious sentiments of Indians along with the effort to create a 21st century modern India for the people of the country.
In what Congress has mentioned, Mahatma Gandhi's sense of Ramrajya had an impact on Rajiv and due to his efforts, Doordarshan started broadcasting Ramanand Sagar's Ramayana in 1985. In 1986, then UP Chief Minister Vir Bahadur Singh had to open the locks of the Ram Janmabhoomi site. In November 1989, the foundation stone of the Ram temple was allowed and the then Home Minister Buta Singh was sent to join the foundation stone. In his last press conference in Chennai, Rajiv Gandhi said that the Ram temple will be built in Ayodhya.
Let me tell you that recently, the Congress had celebrated the Bhoomipujan of Ram temple in the State Congress office and had fireworks. Also, a day before Bhoomipujan, former Chief Minister Kamal Nath had Hanuman Chalisa recited at his home.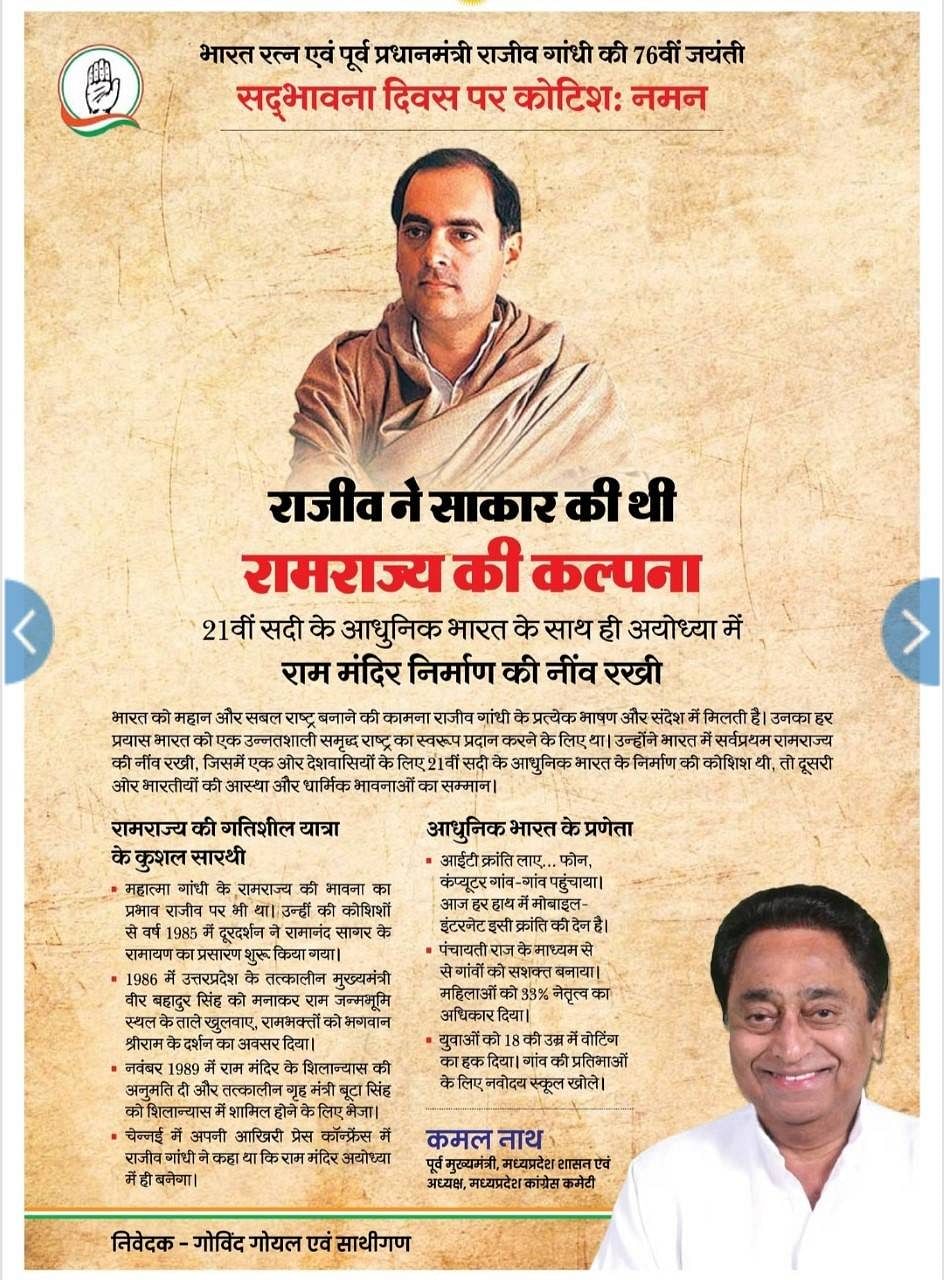 .