You will see that #binod has been trending on the internet for about two to three days. And people are fiercely sharing memes, funny images on it, so you must also be wondering who is this binod? And why is it so viral on the Internet? So today we will work to remove the curtain over the binod.
Friends, this #binod has become so viral that it has been trending on twitter since 2-3 days. Wherever you look on the internet, you get to see only one word, that is Binod. And people are also questioning who is Binod? And why is it so viral on the Internet? Just like, you must have seen a few months ago, how JCB was trending on the internet which had no logic and people were sharing jcb too much like #JCB_ki_khudai and this was going viral on all over the internet. Binod trending.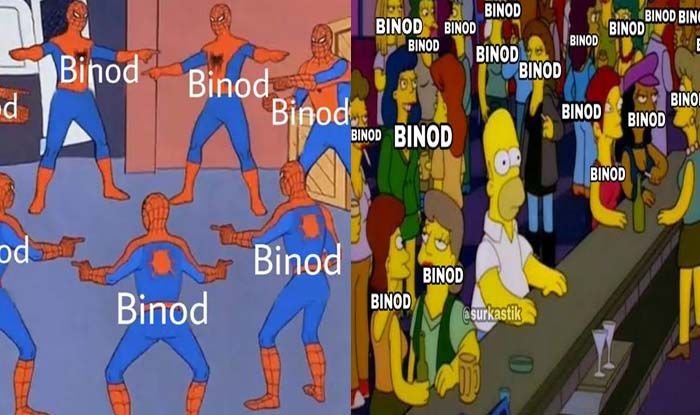 Who is Binod?
Friends, how do you like to ask who is binod. It is clear from this word that it is someone's name.
Then why are these people sharing binod like crazy on youtube, twitter, facebook, instagram? It is beyond everyone's grasp. Who does not even know who binod is, is also sharing it by writing #binod on social media. If any youtuber or any social media influencer is uploading a video or post, then most of the comments that are coming are Binod.
If we talk about its region, then it has no reason. If something on the Internet is a little viral, then people start making it more viral. And he starts appearing in the eyes of everyone. The biggest drawback of social media is that anything can be viral here, even if it has no meaning.
Why Binod is so viral on the Internet?
There is a youtube channel, named Slayy Point. This is a roast channel. People on this channel are ridiculed by the peculiar poor habits. He uploaded a video on 15 July 2020. Whose title was Why Indian Comments Section is Garbage (BINOD). In this video, he told how people in India make strange poor comments on the video.
One such man, whose name is Binod Tharu. He wrote his own name Binod in the comment. And 7 people came and liked him too. And this video became very viral. It garnered 6 million views. This is where the game of binod started. A youtube video slowly enveloped youtube.
People under every video started commenting on Binod Binod. Then many youtubers also made a video on it. His video also went viral. After going viral on YouTube, the word binod spread its footing on all social media. And there came a time that binod started being discussed all over the internet. And this twitter started trending on facebook.