News Desk, Tech for FTCP, Amritsar / Patiala (Punjab)
Updated Mon, 14 Sep 2020 08:54 PM IST
Farmers protest in Amritsar.
– Photo: Tech for FTCP
In protest against the new agricultural bill implemented by an ordinance issued by the central government, different farmer organizations blocked the Beas bridge under the Amritsar-Delhi National Highway on Monday. The farmers sitting on this bridge connecting Amritsar-Jalandhar shouted slogans against the Center.
At the same time, long queues of vehicles started on both sides of the bridge due to the blockage. On receiving the news of traffic jam, Sub Inspector Harjinder Singh of Police Station Dhilwan reached Beas Bridge with a heavy police force. They drove the drivers through other routes. Due to this route towards the villages, the drivers had to face a lot of trouble. Late in the evening till the news was written, the farmers' organizations continued to sit on the Beas Bridge. Police officers kept urging them to open the way but the farmers did not listen to them.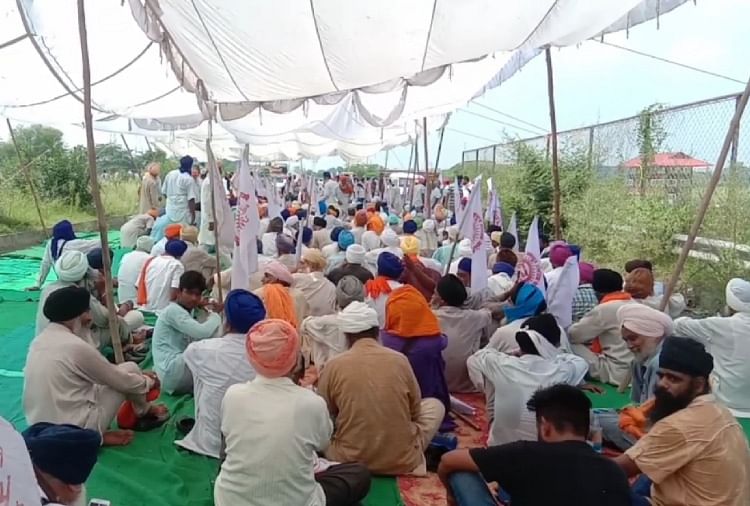 Strong rally of farmers in Patiala
On Monday, various farmer groups organized a fury rally in the grain market on the call of the All India Kisan Sangharsh Sammelan Committee. The Central Government strongly opposed the pass farming ordinances and demanded the repeal of the Electricity Amendment Bill 2020, including the withdrawal. Dr. Darshan Pal, head of the Punjab Chapter of the All India Kisan Sangharsh Sammelan Committee, said that while the farming ordinances passed by the central government have created a lot of uneasiness, anger and insecurity among the farmers of the entire country, especially Punjab and Haryana There is tremendous resentment among the farmers of the country.
Because of this the farmer has come out on the streets against the center. With these three ordinances, the market management of Punjab will be completely destroyed. National and state level government procurement agencies will be out of the market and farmers will be left to the mercy of corporate houses and big private traders to sell their crops.
Also, with the implementation of the Electricity Amendment Bill 2020, the facility of free electricity to the farmers of Punjab will also be taken away gradually. He has demanded from the Center that these ordinances be repealed immediately.
.