25 years of Internet journey have been completed in India and on this occasion, a very special story related to this journey is for you. After 25 years of internet usage in India, India is the second largest country in the world in terms of internet usage and is going to come at number one very soon. As much as the revolution in the world of internet (Digital Revolution in India) has happened in India, hardly any other developing country. Let us tell you how the Internet made the imagination of Digital India come true.
The 1990s was almost half past, and computers in India had been aligned, but this was the time when Internet talk was just talk. Internet was not started in India, but efforts were on in this direction. In 1995, the Internet started from 15 August. Even after the beginning, no one had any idea how much this will change the picture of India in just two decades.
read this also :- Know who is that engineer who made electricity with wet clothes
First internet connectionVidesh Sanchar Nigam had given the country's first internet connection, which required a landline phone to operate. ERNET's NCST team was selected to register the domain name for the first Internet connection in India. This first service was like public service, for which there was no charge, but soon difficulties arose.
(Inside story of introduction of internet in India in detail On this link Read)
Since domain names were not registered in India at that time, such a problem arose that any person or organization could register any domain. That is, any organization or person other than Railways could also register IndianRailways.com domain. Due to this problem, the exercise of arranging the .IN domain was started, so that the problem of the domain for the authorized entities would not remain.
read this also :- If Trump goes to power, what will be America's stand on Kashmir?
Story before
The story of the Internet started in India in the 70s, but it was only related to developing its understanding at that time. Subsequently, a dial up link was introduced in 1986 for the introduction of email service between NCST and IIT Bombay. Commercial use of the Internet began in 1995. In 1989, the Internet was used only for education and research work.
During that time internet was available through National Education and Research Network (ERNET). In 1995, only Satyam Infoway was an ISP provider company, whereas today there are more than 358 ISP companies in the country who are bringing internet to people at home. An interesting story of that time is related to the e-mail before the e-mail.
F-Mail: Have you ever used?
No, if you are under 30 or 40 years old, then you would not have got this chance. In ASL, this experiment was done in the late 1980s when the dial up connection and lease line at IIT Kanpur found it difficult to find an alternative to using email. IITK and NCST discovered this option in mutual coordination.
The alternative was that the mail was written in a floppy and this floppy was sent via courier. In the floppy computer world, there was a time before CD. But soon dilemmas arose on this floppy mail as to why it takes more than three days to reach the mail? The idea started and the process of growing steadfastly towards email started. And now it is also normal for you to have a live meeting
read this also :- Was Nehru's wrong judgment against Pakistan against China?
Story of revolution: then
* When the Internet started in India in 1995, the speed was only 10 KBPS and at what cost? Guess that at the time, for a tired connection of 250 hours, you had to pay 15 thousand rupees.
* In 1995, it used to take about seven minutes to download a photo of an MB, because during that time the speed of the internet was only slightly higher than 2.4 kbps.
* In 2000, the number of Internet users in India crossed the 55 lakh mark. Things did not change much in 15 years after the introduction of the Internet in 1995, but after 2010 the picture started changing.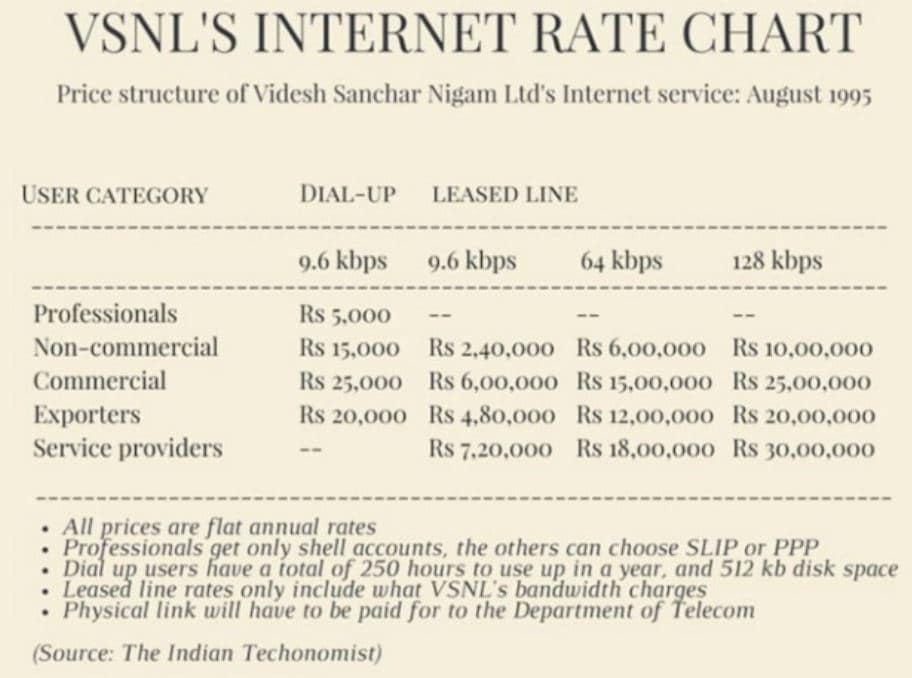 Internet rates released by VSNL were similar in 1995.
Legend of revolution: now
Now the number of Internet users in India has exceeded 700 million. This feat has happened in the last 10 years. In the year 2014-15, the total expenditure of internet (data) in India was 83 thousand crore GB whereas today every Indian is spending an average of 11 GB of data every month. Through smartphone, internet is like morning tea and more than 700 million people in the country are customers of high speed and data.
read this also :- Explained: How can a person of any other religion become a Hindu?
This is the time when the world's largest companies have stood on the strength of the Internet. The entire business of hundreds of companies like Google, Amazon, Facebook, Netflix, Paytm is standing on the Internet. Till 2005 there were 6500 registered websites in India and now there are 22 lakh websites with .in and the total registered websites are more than 50 lakhs.
Future of internet in india
India is the country where the cheapest internet is available in the whole world. According to experts, the use of technologies like artificial intelligence, machine learning and block chain will also be completely dependent on the Internet. In such a situation, India has the power to write a new story of success on the basis of its cheapest and largest Internet eco system.
.