Chief Minister Ashok Gehlot
– Photo: twitter.com/ashokgehlot51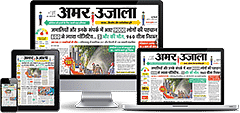 In Rajasthan, the agricultural budget will be presented separately from next year. State Chief Minister Ashok Gehlot announced this on Wednesday. Gehlot also made several announcements for the agriculture sector during the budget presented in the assembly to woo farmers who were opposing the three agricultural laws of the central government.
Referring to Mahatma Gandhi in his budget speech, Chief Minister Gehlot said that Gandhiji had said that if India has to make peaceful true progress, then the people with money should understand that the soul of India resides in the farmers. Gehlot said that our government too has always been farmer friendly and has been bringing many important welfare schemes including farm loan waiver.
Passed three agricultural bills outside the center

The Chief Minister said that keeping in mind the interests of the farmers in place of the three disputed laws of the Center, we passed three bills in the Assembly session and sent them to the Governor and we are sure that they will send these bills to the President. Gehlot said that in keeping with this sentiment, I propose to start the agricultural budget from the coming year to preserve the better future of the Annadata.
He said that in keeping with his promise, the state government has waived 8000 crore rupees of 20 lakh 89 thousand farmers. Along with this, he also paid the long pending Rs 6000 crores of the previous government and waived the loans of farmers in total amounting to more than Rs 14000 crores.
A proposal for loan waiver was also sent to the Center: Gehlot

He said that we had sent a proposal to the Government of India to give the benefit of loan waiver to the loan tenants of all other nationalized banks, but they have not yet received their consent in this regard.

In his budget speech, the Chief Minister announced the implementation of grant-based Chief Minister Krishak Sathi Yojana for the next three years through the 'Farmers Welfare Fund' with a view to increase the income of farmers and livestock farmers and to ensure overall development. Under this, three lakh farmers will be given free bio-fertilizers.
A new power company will be formed for farmers

The Chief Minister also announced the establishment of a new agricultural power distribution company in the budget. He said that for adequate availability of electricity, transparency in power purchase and good financial management .. I announce the establishment of a new electricity distribution company for farmers.
Gehlot also announced the establishment of three new agricultural colleges in Dungarpur, Hindauli, Hanumangarh, mini food parks in a phased manner in each district, a mega food park in Mathania, Jodhpur at a cost of about Rs 100 crore.
Also read: Rajasthan Budget 2021-22: New tax was not imposed on the people of the state, CM Ashok Gehlot made important announcements
.