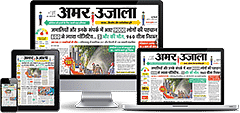 The government has banned the democracy fighter pension getting SP MP Azam Khan. The DM says that this decision has been taken from the government level due to the criminal cases against him.
The SP regime had introduced pension giving democracy fighter status to those going to jail during emergency in the country. The pension system came into effect in 2005 under the Mulayam Singh Yadav-led government.
Earlier 37 people in Rampur district used to get this pension, the number of which is now 35. Initially, the pension amount was five hundred rupees per month, which has now increased to 20 thousand rupees.
During the Emergency, Azam Khan was associated with the Aligarh Muslim University Students Union and was sent to jail. He was also being given this pension since the inception of democracy fighter pension. A fresh list of the names of democracy fighters of Rampur district has been released from the government level, in which Azam Khan is not named.

Now 35 people are named in this list. Asked about this, GM Anjaney Kumar Singh said that according to my information the pension of MP Azam Khan has been withheld due to the registration of criminal cases. Some time ago information about this was sought from the government level.
The democracy fighter pension of three people in the district was withheld due to earlier criminal prosecutions. In this case, in the case filed against a person, the police had made a final report (FR), then their pension has started. Two pensioners of the democracy fighter category are still with pension, including one Azam Khan.
.