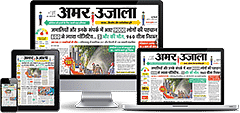 Bharatiya Janata Party leader Shazia Ilmi has severely accused Akbar Ahmed Dampi, a former Bahujan Samaj Party MP. He has filed a complaint at Vasant Kunj police station in Delhi, accusing Dumpy of misbehaving. She alleged that on February 5, she attended a dinner program. There, Dumpy treated her indecently, after which she complained to the police and filed a case.
An FIR has been lodged against Akbar Ahmed Dampi under the sections 506 and 509 of the IPC at the Vasant Kunj police station. No statement has come from the police on this matter, they say that the matter is still being investigated.
Ilmi elaborated in the complaint that representatives of many countries were also attending the program she went to. She told that while she was discussing with the Chilean Ambassador about the law and order of the country, at that time when Dumpy came there, he started abusing the BJP and Prime Minister Modi.
Not only this, other people present there also tried to stop the dump, but they continued to speak. He then used dirty and vulgar words against me.
.