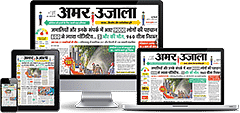 Bihar Chief Minister Nitish Kumar on Saturday advocated a one-nation, one-rate policy for electricity, saying it would benefit states like Bihar which get electricity at a higher rate than many other states.
Addressing the sixth meeting of the Governing Council of NITI Aayog headed by Prime Minister Narendra Modi, Kumar said that Bihar used only 700 MW of electricity in 2005, but the scenario has changed in the last 15 years and in the state in June 2020 5,990 MW of power has been consumed.
The NDA government led by Nitish Kumar first came to power in the state in November 2005. For the past few months, many farmers have been agitating near Delhi against the three new agricultural laws of the Center, about which Kumar has said that the laws are pro-farmer.
The Chief Minister said that the rate of electricity supplied by central government power plants varies from state to state. There should be a uniform policy – one nation, one rate. He said that Bihar gets electricity at a higher rate and the state government has to give more subsidy to the power distribution companies so that people get electricity at an affordable rate.
According to an official release, the Chief Minister said in the Policy Commission meeting that it would be good if a single policy was adopted for the entire nation. On the issue of agricultural laws, Kumar said that three agricultural laws brought by the Center are in the interest of farmers.
.