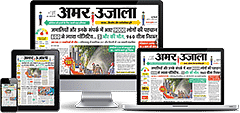 A heartbreaking incident has been carried out in Nawanshahar district of Punjab. On Tuesday, the assistant general manager of GR Infra Company, which built the Ropar-Phagwara main road and flyover, strangled his wife to death and later burnt the body. On the information of other officers of the company, Police Station Banga City Police recovered the dead body from the house. The police have arrested the accused and registered a case against him.
Station in-charge Vijay Kumar said that Anil Kumar, a resident of some Mattha village in Umaria district of Madhya Pradesh, is posted as Assistant Manager in GR Infra Company. The company is building flyovers in Banga.
The accused along with his wife Anupama and three children lived in NRI Colony of Banga. On Tuesday evening, Anil arrived at the company's office with his eight-year-old boy, five-year-old girl and three-year-old boy. There he had dinner with all three children. During this time, other employees present there asked Anil Kumar about not coming with his wife. But he did not give any concrete answer.
After some time Anil told one of his senior officers that he was suspicious of his wife Anupama. Because of this, he has strangled Anupama. After this, the body was burnt. According to the station in-charge, after this, the company's officer Balbir Singh informed the police about the case. The police arrested Anil.
Police have recovered the dead body of Anupama from the house of the accused at NRI Colony. The body has been sent to the post-mortem after taking possession. Based on the complaint of company officer Balbir Singh, further action is being taken against Anil Kumar by registering a case in several sections including murder.
.