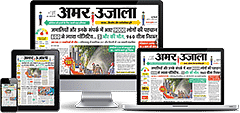 Seema Pujani, Second Secretary of India's Permanent Mission to the United Nations, on Wednesday exercised her right to reply (Right to Reply) against Pakistan's statement. Pujani said that we reiterate that Jammu and Kashmir and Ladakh are integral parts of India. It is our internal matter to take steps on behalf of the government to ensure better governance and development in these union territories.
Pujani alleged that minorities including Christians, Sikhs and Hindus in Pakistan face violence, institutional discrimination and persecution. He said that there have been frequent attacks on places of worship and religious places of minority communities in Pakistan. Pujani said that such attacks and incidents there are a serious violation of the right to freedom of religion and beliefs.
We reiterate that JK & Ladakh are integral & inalienable part of India. Steps by Govt to ensure good governance & development in these UTs are our internal matter: S Pujani, Second Secy, Permanent Mission of India to UN exercises Right of Reply in response to Pakistan's statement pic.twitter.com/YDQ2jq4qyU

– ANI (@ANI) February 24, 2021
She said that the condition of women belonging to minority communities in Pakistan is very bad. Among them, especially the situation of Hindu, Sikh and Christian women remains worrying. Pujani said that according to the recent report of the Human Rights Commission of Pakistan, about 1000 women from these communities are abducted, forced to convert or get married every year in Pakistan.
Accusing Pakistan of promoting terrorism, S Pujani said that the acquittal of US journalist Daniel Pearl's killer and al-Qaeda terrorist Omar Saeed Sheikh on behalf of Pakistan's Supreme Court is a clear example. He said that by acquitting Omar Saeed Sheikh, Pakistan has clearly stated his nexus with such terrorist organizations.

.