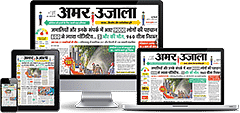 The Jammu and Kashmir High Court has filed an FIR against the head of Facebook India and several other accused in the online fraud case and directed it to investigate. A fraud plea was filed by Jammu resident Vivek Sagar. Hearing the petition, Justice Dheeraj Singh Thakur of the High Court has directed the cyber cell police to investigate the matter.
Petitioner Vivek Sagar said in his petition that through an advertisement released on Facebook, he had been cheated of twenty thousand seven hundred rupees. Internet and SMS were also used for fraud. The petitioner also contacted the cyber cell police regarding this, but no action was taken. The petition accused Facebook, Bajaj Finance, the head of Quadrant Televisions and others. He was cheated for 20 thousand 700 rupees.
Deepak Sharma, counsel for the petitioner in the High Court stated that since cyber police did not take any action on his client's complaint. He therefore moved the High Court against the verdict of the local court under Section 156 (three) CrPC and sought directions for filing the F IR.
.