Vijay Shekhar Sharma of Paytm has suggested to the troubled users of Google Pay to use Paytm on Twitter, with which the user will also be given CEO-level customer support.
Last Updated:February 24, 2021, 11:31 AM IST
Targeting the competitor is a common thing in the business world. Brands often find new ways to tell each other's shortcomings. Paytm CEO Vijay Shekhar Sharma has taken a dig at rival online payment platform Google on microblogging platform Twitter. Actually, in a post on Twitter, a user named Aparna Jain asked what the XV XV error on Google Pay means? The user wrote in the tweet, 'People who use Gpay. What error is XV. I can't find it online @ googlepeindia. '
Replying to the tweet, Vijay Shekhar Sharma suggested that she could try on the user Paytm and for this she would not need KYC and she can pay directly from her bank account.
(Also read- Realme becomes cheaper than 7 thousand, Realme's 5000mAh battery will get HD + display)
Sharma said he would also get CEO-level customer support with it. Following the promises made by Vijay Shekhar Sharma, different types of reactions started appearing on Twitter. While some people agreed with Sharma about Paytm and its customer support, some people have given mixed opinions on it.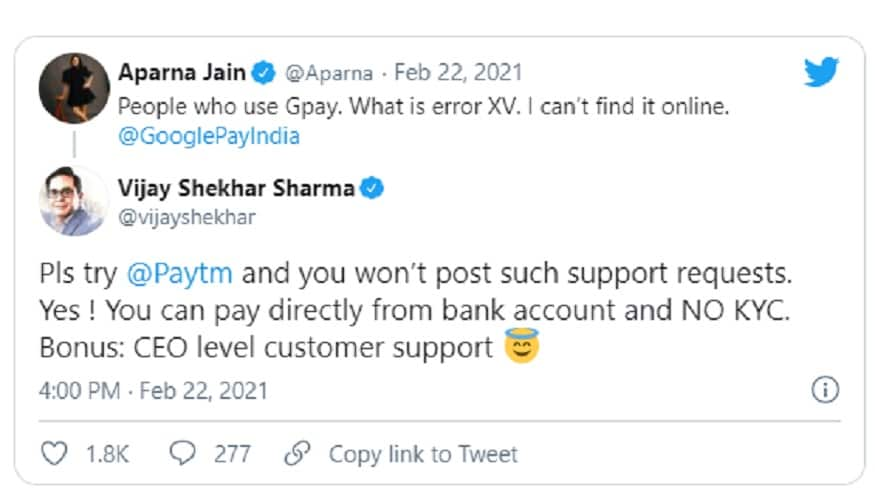 Paytm CEO Vijay Shekhar has responded to the Google Pay user.
Twitter user Divansh Mehta also responded in this ongoing conversation, saying, 'Paytm is a million times better than Google Pay, but giving many features in a single app makes it a bit difficult for the common people to understand. That is why I have seen people slowly shift to PhonePe.
(Also read – Did not do this work on WhatsApp, we will not be able to send any message from May 15! Only call will be available for a few days)
However, many others said on Sharma's claim of 'CEO level support' that Paytm customer support, as claimed by the app's founder, is not really professional. A Twitter user Amarendra Dubey said, 'Paytm support is the worst experience ever for me. They deliver worthless products and do not take returns despite the product being returnable. It is very disappointing to ask for support from Vijay Shekhar Sharma. Paytm does not follow its policy.
Having started as an online payment wallet, Paytm has become one of the most successful startups in India till date.