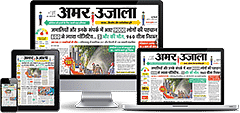 A case has emerged from Bhopal in Madhya Pradesh, which completely embarrasses the relationship between husband and wife and father and daughter. Shriram Dubey, posted in primary school Sahapura, tried to eliminate his entire family due to suspicion over his wife.
Due to suspicion, the husband tried to kill both the daughters including his wife by stabbing them with a knife and later attempted suicide by spraying kerosene on themselves. All four people have been admitted to the hospital for treatment but the condition of all four is critical.
Shriram Dubey, who lives in the hospital campus, left the coaching center at 9:30 in the morning to his elder daughter Anchal. As soon as Shriram Dubey reached home, a dispute started between the husband and wife. Shriram Dubey picked up the knife and stabbed 12-year-old daughter Deepal's throat.
After this, his wife, who works as a nurse in the district hospital, stabbed him on his cheek and throat and on the stomach and neck of the youngest daughter Peehu (three years) standing nearby. Not only this, after this, Shri Ram Dubey put kerosene oil and set himself on fire.
Hearing the noise, nearby people reached Shri Ram Dubey's house, put out a sheet and extinguished the fire, but by then Shri Ram Dubey's body had burnt up to 60 percent. When the neighbors tried to take Shri Ram Dubey to the hospital, Shriram started banging his head in the door instead of going inside the hospital.

After this, Shriram also tried to jump from the roof. Even before this, Shriram Dubey had written a suicide note. It wrote that Rekha Batham, Vinita Sahu, Akash Karosia and her family and Rekha Karosia are responsible for destroying my family.
The severely scorched teacher told the police that my wife used to talk to someone else for six hours on a mobile phone. Sometimes she would go away from home. Shriram Dubey said that I explained a lot but she did not listen. So I had to take this step. Shriram Dubey said that I have no attachment to life.
.