Lashkar-e-Mustafa chief Hidayatullah Malik
– Photo: Jammu and Kashmir Police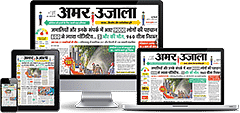 Javed, a partner of Lashkar-e-Mustafa chief Hidayatullah Malik alias Attacher Baba, has been arrested from Bihar. The youth arrested in Jammu and Kashmir's connection with terrorists and the arms supply case have reached Jammu on transit remand for police questioning. He is being questioned about his links with terrorists and members of the racket.
Police said that Javed Alam Ansari's name came up during interrogation of Lashkar-e-Mustafa kingpin Hidayatullah Malik. On this, the Jammu and Kashmir Police contacted the Bihar Police and gave information about the whole case.
After getting information about his association with Malik and providing him with pistols, the Patna Anti-Terrorism Squad arrested Ansari on Monday night from his house in Devbahura village in Chhapra. He said Ansari has been brought to Jammu on transit remand and is being questioned.
Also read: The terrorists of Srinagar attack will have to pay a big price, this strategy made in the meeting
Police said that with the help of Patna ATS, a colleague of Malik has been arrested from Bihar. The accused supplied arms to the arrested terrorist. According to this, a case has been registered against the accused at Gangyal police station and investigation is on.
Arms supply from Bihar
DGP Dilbag Singh had recently revealed that the recent arrest of the commander of Jaish's new outfit Lashkar-e-Mustafa, Hidayatullah, has exposed the new network. Hidayatullah has established a network of supply of weapons from Kashmir to Punjab and Bihar. During interrogation, it has been found that seven pistols from Chhapra in Bihar were brought to the terrorists with the help of Kashmiri students studying in Punjab.
read ahead
Arms supply from Bihar
.