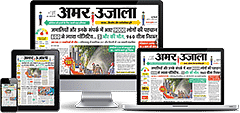 Nepal's Prime Minister KP Sharma Oli on Sunday challenged the ruling Nepal Communist Party's Pushp Kamal Dahal 'Prachanda' faction, if they can be removed, to remove him from the top post.
Prime Minister Oli (69) was addressing a program in his home district Jhapa. According to the My Republica newspaper, he challenged Prachanda's faction to bring a no-confidence motion.
The Prime Minister said that K P Oli is still the leader of the parliamentary party of Nepal Communist Party. He is the Prime Minister in addition to being the party president. If you have restored Parliament, remove KP Oli from the post of Prime Minister.
Last year, there was a political crisis in Nepal when on December 20, President Bidya Devi Bhandari announced the dissolution of the lower house of Parliament and fresh elections on the recommendation of Prime Minister Oli.
Last week, a five-member constitutional bench of the Nepali Supreme Court quashed the Oli government's unconstitutional decision to dissolve the 275-member lower house of parliament in a landmark ruling. The court also ordered the government to convene the session within the next 13 days.

The newspaper quoted Oli as saying that if you can remove, then remove me. If I am ousted, I will win the next election with a two-thirds majority.
.