Just before her birthday on 21 March, Rani Mukerji has given a special gift to her fans. Rani, who is away from social media, told fans on social media that she will announce a big film on her birthday tomorrow.
Mumbai.
Bollywood actress Rani Mukherji interacted with her fans just a day before her birthday. Rani answered the questions of all the fans on this occasion. The actress told that during the time of Covid Pandemic, she was engaged in the care of her five-year-old daughter Adira. It was a very difficult time for Rani because as soon as Adira started schooling, the lockdown started. Rani is rarely seen in films these days. The 'Saathiya' fame actress openly answered the questions of all the fans.
Rani Mukherjee said that it is not easy to be an actress in the film industry. This is a very difficult profession. When you become a star, the audience's expectations from you are very high. You have to work under different circumstances. Glamor, beauty looks onscreen, but the truth is that we have to shoot at a very difficult location. Success, name and fame are found only when you get the love of the audience. Therefore, you should work hard so that you can get the love of fans'.
Please tell that Rani Mukherjee had told about talking with her fans through the official Instagram handle of Yash Raj Films. Rani Mukherjee said that 'Since I am not on social media and I want to spend time with my fans because they have been like a big support system for me for years.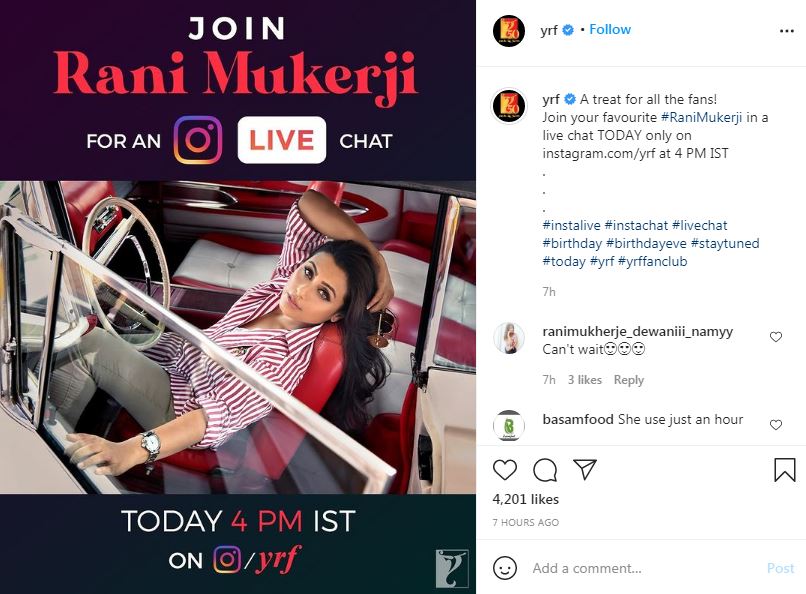 Rani Mukherjee's fans asked Rani that when you are coming on Instagram, Rani did not show any special enthusiasm on this question. But Rani was very happy to join her fans in the live session. With this, Rani promised her fans that she will announce a big film on her birthday tomorrow.
.