The house helper of Shabana Azmi and Javed Akhtar gave a gift to their owner Mistress. These people also not only took photographs while keeping the value of her gift, but also shared it on social media.
Mumbai :
The legend of Bollywood actress Shabana Azmi is famous not only for her strong acting in films but also for her social service. Shabana has shared a photo on social media. In this photo, Shabana has expressed love for her house helper. Shabana Azmi's shared photo on social media is becoming viral. In this photo, Shabana is seen with her famous lyricist Javed Akhtar (Javed Akhtar) and a woman.
Actually, Shabana Azmi has shared a photo on her Instagram account. In this photo, Shabana and Javed Akhtar are seen in a new dress. Shabana is seen wearing a blue and beige embroidered saree and maroon color blouse while Javed Saheb is seen wearing a white colored kurta pajama and blue towel and white hat. While sharing this photo, the veteran actress has also written a special post. Shabana wrote, "Jayashree's daughter got married and she lovingly bought this gift for us which we are wearing."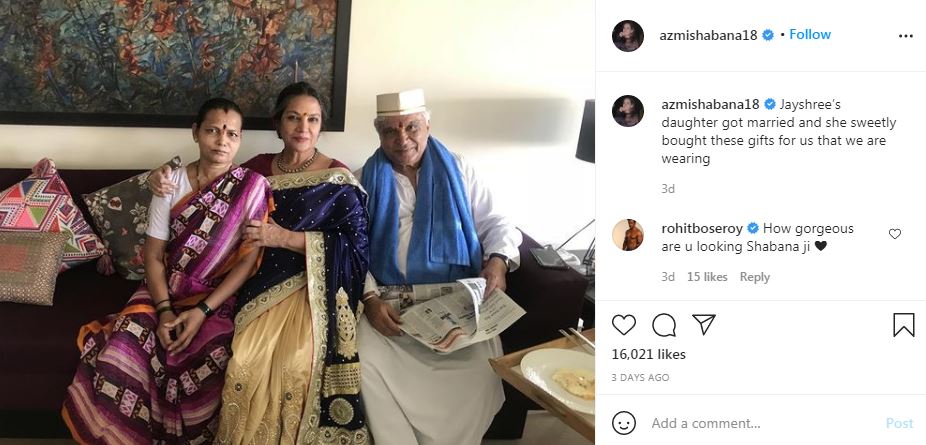 After this post by Shabana Azmi, the fans felt that this gift was sent by a fan. But the actress revealed this while talking to the media. During an interview, Shabana said that Jayshree is not a fan but a house helper. 'Jayshree has been working at our house for a long time. He is like a family member for us. Her daughter is recently married. Jayashree also bought a gift for us on marriage. The traditional Maharashtrian dress was given to us as a gift. We were so overwhelmed by his love that not only did we wear clothes but we also got photographed with him '. Shabana and Javed also accepted the gift purchased from their helper's hard-earned money.
.