Priyanka Chopra's interview with Oprah Winfrey has become a topic of discussion. People are trolling Priyanka a lot because of her answers. Actually, during the interview, Priyanka had said that her father used to sing songs in the mosque.
New Delhi
Recently Priyanka Chopra appeared in Oprah Winfrey's famous show (The Oprah Winfrey Show). He has spoken openly on all the stories related to his life in the interview. His book 'Priyanka Chopra's Unfinished', released some time ago, was also discussed. Priyanka has shared all the unknown stories of life in her book with the fans. Now with his book, his interview with Oprah Winfrey has also come under discussion. The actress made one such revelation on the show which surprised her fans.
Priyanka told in the interview that her father used to sing in the Ashok Chopra Masjid.. People are trolling him fiercely because of what he said in the promo video of the show. Many fans are questioning their given information. In the interview, when Oprah asked Priyanka about the spiritual atmosphere she got from her childhood, the actress said, 'I think it is very difficult not to connect with spirituality in India, you are right. With all the religions that are around us, it is included in the people there.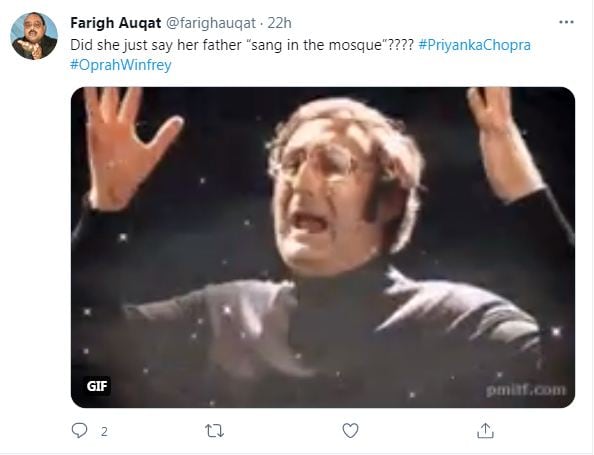 (Photo courtesy Twitter @ farighauqat)
Priyanka was further seen saying, 'I have studied in a convent school. When I went to school, I knew about Christianity, my father used to sing in a mosque. I knew about Islam. I grew up in a Hindu family, so I knew about this too. Therefore spirituality is a very big part of India, which you cannot ignore. Now on social media, their fans are raising a variety of questions on Priyanka's answer.

(Photo courtesy: Twitter @ Angelhinal)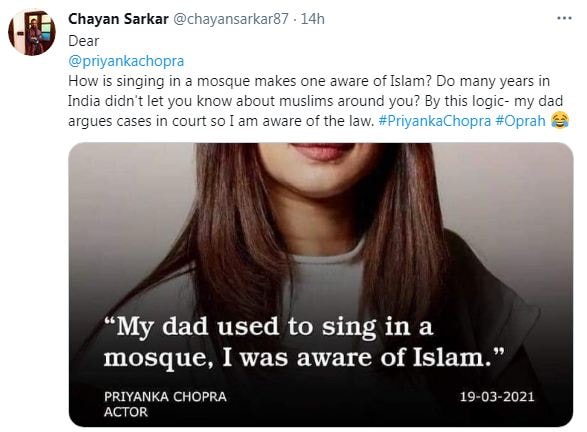 (Photo courtesy: Twitter @ chayansarkar87)
One user posted a GIF, writing- 'Did he say that his father used to sing in the mosque?' Another user wrote – Wow. Are songs allowed in mosques too? I did not even know this. At the same time, another user wrote saying: – Priyanka's father used to sing a song in the mosque. Indeed? Tell me the name of that mosque.
.