'Rang De' star Nitin (Nithiin) and Keerthy Suresh are constantly seen having fun with each other by sharing one post after another. Meanwhile, by sharing a post on his Twitter, Nitin has complained to the Hyderabad Police of Kirti's 'disappearance'.
The superstars of South films Nitin (Nithiin) and Keerthy Suresh are seen having a lot of fun with each other these days. Recently, Kirti Suresh had a fun prank with her co-star Nitin in which the two stars were seen sitting together in a boat. The funny thing in this prank was that Kirti Suresh was seen laughing in the photo while Nitin's head is seen moving. The actor is seen shaking his head on the song 'Jimmy Jimmy' from Mithun Chakraborty's disco dancer film. After watching the video, the fans of both stars are not taking the name of stopping. Meanwhile, Nitin again had a prank with Kirti, after which the police have also given their response.
Nitin (Nithiin) has shared a post about Kirti on his official Twitter account. In this post, Nitin uploaded a picture of Kirti's childhood, in which she is seen in the uniform of the school wearing two tops with red ribbins. In the passport size photograph of Keerti, Nitin wrote a funny caption, "MISSING .. was promoting Rang De (Rang De) and is missing from the middle." The film was to be released on 26 March and it is the time of Rang De promotion. The director of the film is Venky Atluri and produced by Naga Vamsi.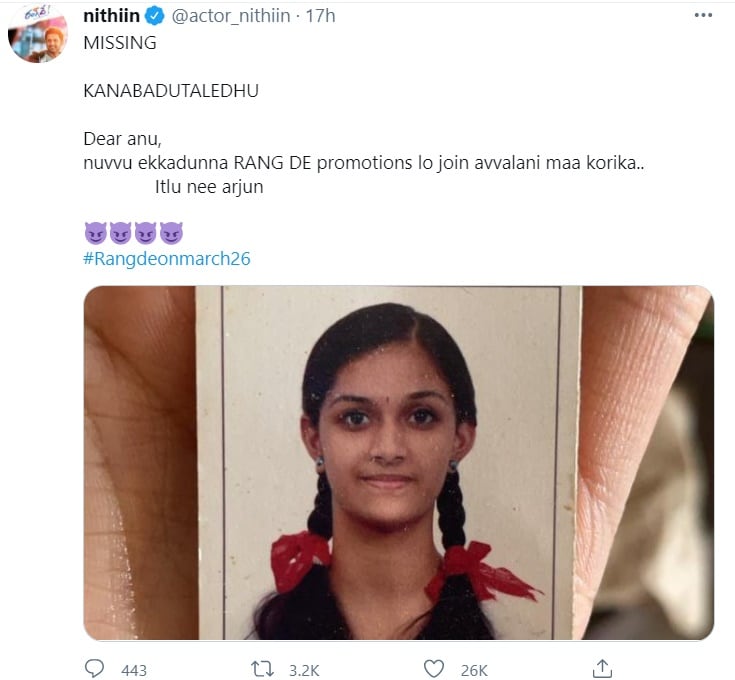 Hyderabad police has also given an interesting response to this tweet of the actor. The police tagged Nitin on his official Twitter handle @hydcitypolice, writing, "Don't worry we will look into the matter". The police further created an emoji of a smile with this. Let us tell you that even before this, Nitin had a fun prank with Kirti. Nitin and director Venky Atluri shared a picture of Keerti taking a nap on the set. Nitin wrote on this, while we are all sweating on the shoot of the film, this madam is sleeping and after this Kirti made a funny post to Nitin. In that post, he wrote that it will be avenged.
If we talk about the work front of these two, then Kirti and Nitin are currently promoting their upcoming film Rang De vigorously. Fans are also excited about Venky Atluri's film Rang De. Rang De also stars actors like Kaushalya, Vanella Kishore, Suhas, Satyam Rajesh and Brahmaji in the film along with Nitin and Keerthi. This romantic drama movie is to be released on March 26 and its teaser will open on the coming Friday.
.