Sanjay kapoor and Rajiv Kapoor were good friends. Sanjay remembered by sharing a photo with Rajiv on his Instagram account.
Mumbai:
Bollywood actor Sanjay Kapoor is missing his friend Rajiv Kapoor. Sanjay and Rajiv were one of the close friends of each other in the film industry. On February 9, Rajiv said goodbye to the world due to heart attack. Sanjay, who is a very close friend of Rajiv, has remembered his dead friend by sharing a throwback photo on Instagram. In this photo, Rajiv's sister Reema Jain is also seen with these two friends. This photo is going viral on social media. Everyone used to call Rajiv Chimpu.
In the photo shared by Sanjay Kapoor on Instagram, Sanjay and Rajiv Kapoor are seen posing for clicking photos. In this photo frame of both these friends, Rajiv's sister Reema Jain is seen trying to come. Rajeev has covered Reema's face in a very funny way. With this photo, Sanjay wrote the post 'Miss you Buddy, Reema as usual was trying to come in this picture'. Fans are fiercely liking this photo. Many fans remembered Rajiv Kapoor while commenting on the photo. One wrote, 'He was a great actor, he worked in many films but was not successful, it is sad that he left the world.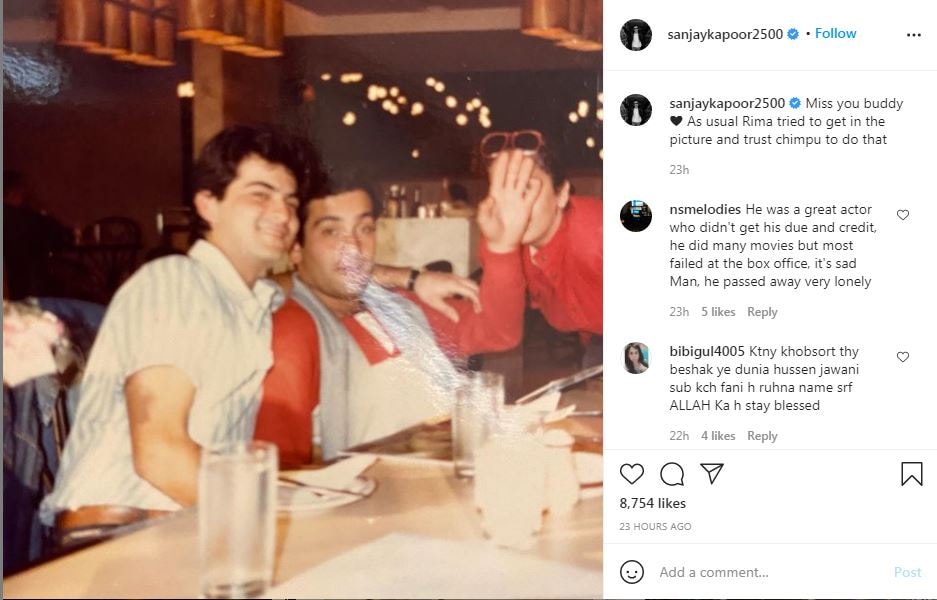 Please tell that Rajiv Kapoor, the younger son of Bollywood veteran actor and show man Raj Kapoor, died of a heart attack on 9 February this year. Rajiv, who said goodbye to the world at the age of 58, was known for the film 'Ram Teri Ganga Maili'. In 1985 film, there was actress Mandakini with Rajiv and this film was made by Raj Kapoor. This film was a super hit.
.