On the release date of the first film, 'Chehre', which was released on April 9, there is still a crisis of crisis. Amitabh Bachchan and Emraan Hashmi starrer still remains in suspense on the release date of this film.
Mumbai:
Corona pandemic has once again started trying to halt the pace of the country. Last year, the film industry, which was facing the arrest of the captives, got some relief. Pending shooting of many films was being completed and films started to be released. In such a situation, once again the possibility of lockdown has started appearing in all the metros of the country. Night curfew has been imposed in Mumbai as well as in Delhi. In such a situation, there is a crisis in front of the producers-directors about the release of films, there is also doubt about the release of Amitabh Bachchan and Emraan Hashmi's film 'Chere'.
The film 'Faces' was earlier announced for release on 9 April. But in view of the Corona crisis, it was postponed. Now that the cases have started increasing, in such a situation, the director of the film, Rumi Jaffrey, while talking to the Bombay Times, told about the release plan. Rumi said that 'Safety comes first, so at a time where the mall and cinema hall are closing soon, is there any reason to release the film at such a time? There are many states which are imposing nighttime curfews, in such a situation, the last show will be at 4 pm.
Rumi further explained that 'the teaser and trailer of the film has got a good response. People have also praised me Amitabh Bachchan. We have made a great film, so it is important that we keep a little patience. The producers will take the final decision on this. We have decided that if the film is released, it will be in the theater itself.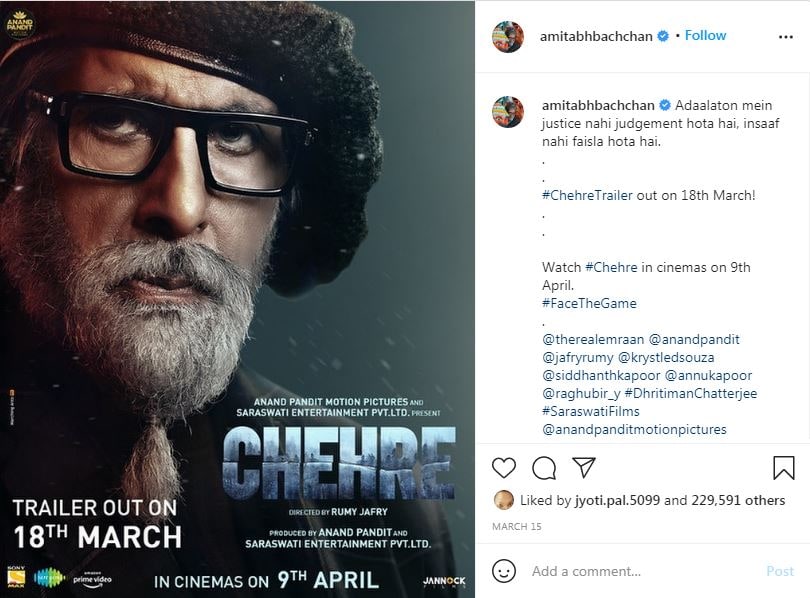 Apart from Amitabh Bachchan and Emraan Hashmi, the film directed by Rumi Jaffrey, Riya Chakraborty, actor Annu Kapoor, TV actress Krystal D'Souza, Raghubir Yadav and Dhritiman Chatterjee will also be seen in important roles.
.