In view of the ever increasing case of Corona, Bollywood actor Sonu Sood has urged the government (Sonu Sood appeals to government) that those above 25 years of age should also be given the Corona vaccine soon.
Mumbai.
The situation of Corona Infection in India is now explosive. The situation is grim in many states. The situation in Mumbai and Delhi has become uncontrollable. Considering the increasing cases of corona, now the state governments have started to act vigorously. Everyday new cases are increasing. Along with this, the death toll is also increasing. Although people are getting Corona vaccine, but it is only for those above 45 years of age. In such a situation, Bollywood actor Sonu Sood appealed to the government (Sonu Sood appeals to government) to introduce the Corona vaccine to those above 25 years of age as well.
Sonu Sood, who is active on social media, tweeted on Twitter and wrote- 'I appeal that those 25 years and above should also be vaccinated. The way the cases are increasing and even children are getting infected with corona, the time has come that we should announce the introduction of vaccine for those above the age of 25 years. More cases are coming up among the youth.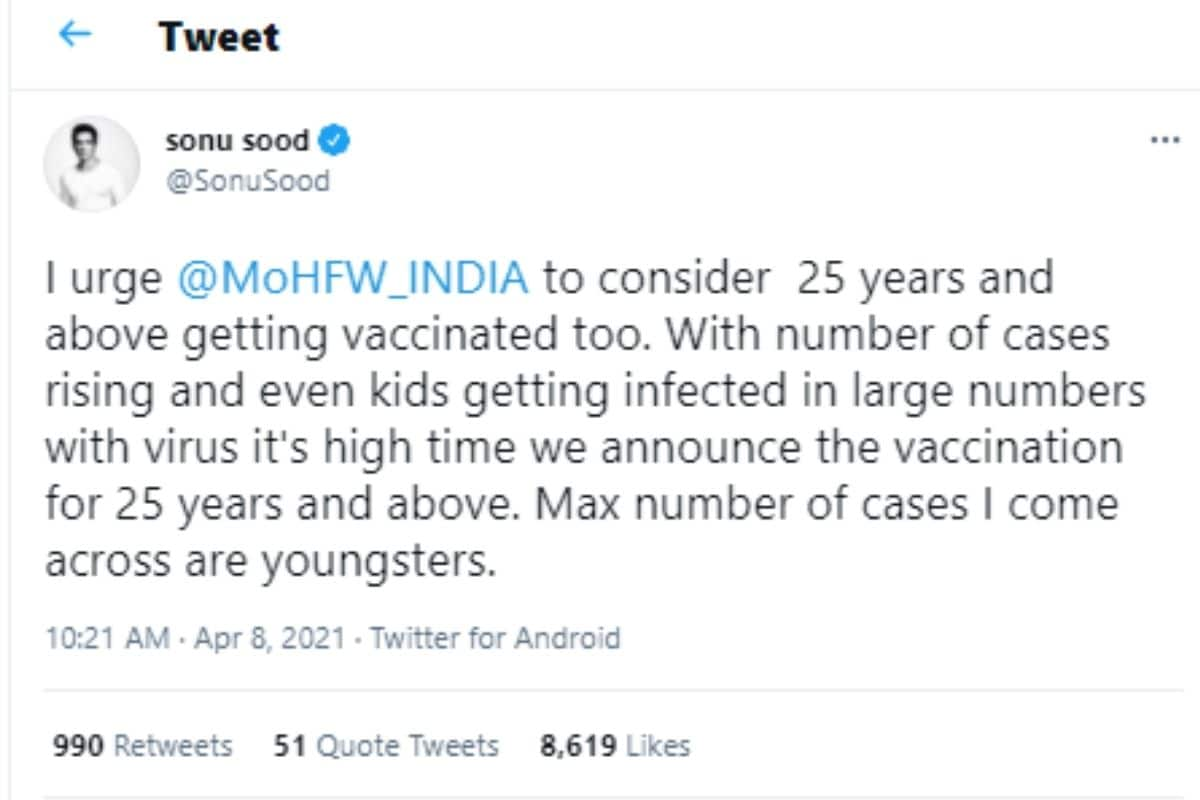 Sonu Sood recently introduced a Corona vaccine to a hospital in Amritsar, Punjab. He gave this information on Twitter. He wrote that I have got a corona vaccine today. Now get my country vaccinated. From today, we have started the biggest vaccination campaign named Sanjeevani. This campaign will spread awareness among people and inspire them to get vaccinated. Many Bollywood celebs including Amitabh Bachchan, Rohit Shetty, Malaika Arora, Salman Khan, Rajinikanth, Sharmila Tagore, Dharmendra, Rakesh Roshan, Alka Yagnik, Satish Shah, Hema Malini Corona vaccine has been introduced.
Let us tell you that amidst the uncontrollable pace of Corona, Prime Minister Modi will again speak to the Chief Ministers of all the states. In a meeting with all the Chief Ministers of the country, PM Modi will discuss the terrible condition of the corona and vaccination.
.